So today (now yesterday) turned out to be very a interesting experience for me. It was very unexpected, nerve wracking and exhilarating. I finally got a chance to check out a local Lingerie Store that I have always wanted to go to. I was curious to see if the store sold any kind of rubber or latex gloves. It is not a regular store front store though, It is an old victorian house where the bottom floor is the lingerie store. The owner was a completely gorgeous mature woman named Brenda and when I first saw her, I thought she looked familiar. I was nervous to begin with since it was an unusual place for a store. Once I got there, she unlocked the door, I walked in and she gave me her full attention. She took her time with me, being very polite and chatting away but I mostly just listened.
After a few minutes of looking around I finally got the courage to asked her if she had any gloves for sale and she immediately responded that she loved every type of glove and she loved to wear them. She then went on to say she had just done a photoshoot earlier in the day and she wore latex gloves just past the elbow. As she described them she would use her own body as a mannequin showing me where they went up to and her arm. She also described the rest of the lingerie she wore, again using her body to show me.
I was dumbfounded
I didn't know how to respond to her after that. I became extremely nervous. I tried my best to keep it together after that but It was like she could sense I was turned on by the way I was acting. I originally had little intentions of buying anything besides gloves and the glove selection was unique but not for me. Wet look, half mesh/half satin and some gold ones were the only real selection.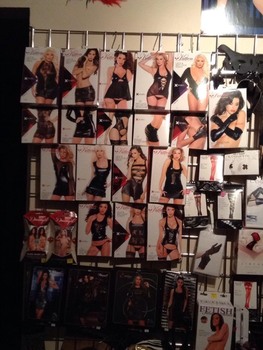 So after checking out the gloves, she asked what else I was into. I blurted out stockings and garter belts, since they definitely are my next favorite items after gloves. She then went on to show me all sorts of styles and designs. I was happily watching and listening to her describe her favorite styles. She said numerous times that stockings and gloves were her favorite items and they should always be worn with an outfit to complete the look! I was in heaven since that is my exact view also, stocking and gloves is all I need. She was going through her new stock that was still in a box pulling out all sorts of designs. As she did she complained her shirt was bugging her, so she took off her sweater and revealed her massive breasts in a tight tshirt with pink whales on it. She complained that the whales had some tiny annoying plastic sticking through that was poking her. She asked me if it liked her pink whales as she pushed out her breasts, tugging on her shirt. Once again I just stood there dumbfounded staring like an idiot. To top it off she wore tight yoga pants which she also directed my eyes too to show me how high the stocking would go up her thigh. She was fully aware that I was gazing upon her numerous times.
"What the hell is going on!! This is unreal, I cannot believe this is all happening right now!"
Those were the thoughts running through my head. I was expecting some un interested employee at this place but instead I got a beautiful mature woman mesmerizing me with every word.
Every time she handed me a new piece of lingerie she would caress my hand with hers. It was exhilarating. She would giggle and smile the whole time. I ended up showing her a pair of stockings I liked and a garter belt that went with them. Again I had zero intentions if buying but yet somehow I was going through the motions of buying them. She then said "okay, okay but what about the middle now... you need some panties" just hearing say panties way beyond amazing. She would say stuff like "I have so many panties, take a look at all my panties, I love panties" At that point being fully aware she had me under her spell, I snapped out of it and announced that I would just take the stocking and garter belt. She was happy to ring me though. She thanked me numerous times and sent me on my way.
It was a wonderful experience to say the least. But I couldn't help to think that she looked so familiar. So once I got to my vehicle, I looked on my phone to the one site that popped in my head as soon as I saw her. A site that a guy from Work introduced me to as a joke. It is called Backpages. On this site you can find stuff for sale, job opportunities and all sorts of naughtiness. Escorts, body rubs and Fetish Doms. I had often checked out the fetish dom section to see any new women offering there services. I had zero intentions of actually going to see one of these ladies but the pictures they posted often had gloves, lingerie and strapon.
My brain nearly exploded when I went into the fetish dom section, I scrolled through and found her... there she was. She is a lingerie store owner by day and a Dominatrix by night. It all made sense after that, she was very skilled in the art of seduction and manipulation. I was thrilled she has used it on me. She was not kidding about her love of gloves and stockings, that is for sure. The pictures below are proof.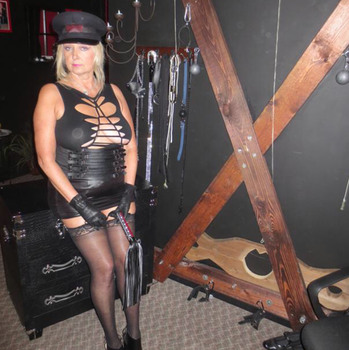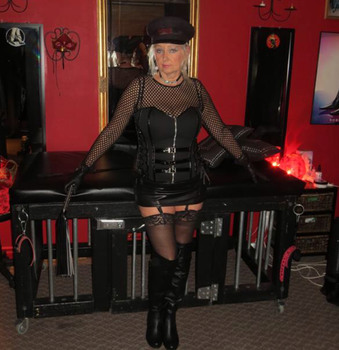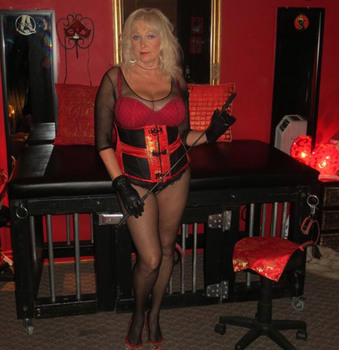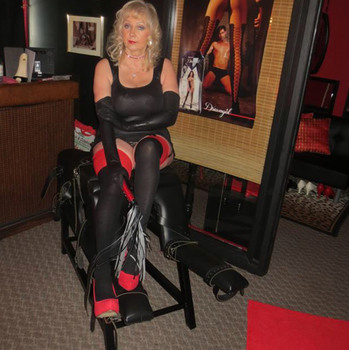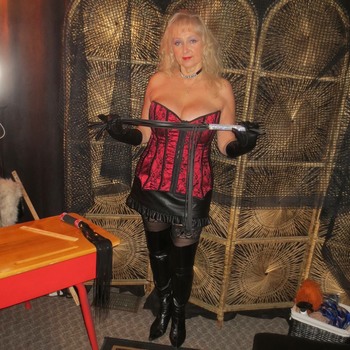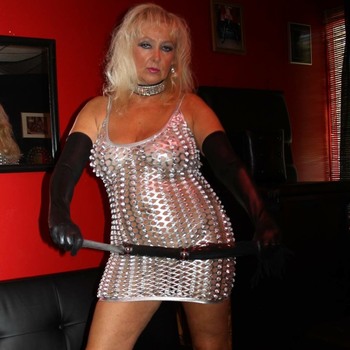 I have to say that these pics do not do her justice. She was a thinner and in much better shape in person.
After I left and got home I once again built up the courage to call her and thank her for the experience. Then out of no where I blurted out " you said you did a photo shoot today, are those pictures for sale...." I held my breath waiting for a response..
"Oh.... well I have sold some of pictures in the past, hmm let me get them developed and I will give you a call to come look at them at my shop. We can make a deal then"
I agreed and thanked her again.
So that was the whole experience which will hope be continued. I do have to admit it was the best lingerie store I have set foot in. Completely private and a great selection. Looking forward to our next meeting.