I've been meaning to post a review of these for some time. I thought for a long time that these gloves had been discontinued a long time ago, but happily not. My first memory of these is as a small child in the '70's, so it was interesting to get hold of a pair after a member (forgive me, I can't remember who) posted about them. I bought mine from ebay - Mc Cormack Tools. I have a pair in small form my wife (not used yet) and medium for me.
I'm not a fan of Marigold gloves generally - they just don't do it for me, however these are different.
The medium are a perfect fit for me - close, but not too tight, and reasonably close fitting around the cuff, which I like. They have quite a strong smell, but because they are chlorinated, it's a different smell to natural latex - not as sweet. I don't like chlorinated gloves, so I've used mine for washing up for a while, which has given them a slightly more grippy feeling on the fingers and palms. That said, I put a hole in them fairly quickly, so had to retire them to the bedroom (shame!).
They have crinkly texture all over the hand, with smooth cuffs that have some fluting. The cuff is rolled. They feel very nice for touching with that texture. Being very thin, sensitivity is amazing.
They are flocklined, but don't have the usual white layer, so are red inside with a layer flock. It's fairly minimal, so shouldn't affect anyone allergic to flock.
Overall, these make a nice addition to my collection, having different qualities to many of my other gloves. A good buy for some fun, and also for delicate household tasks.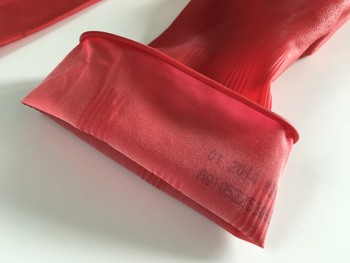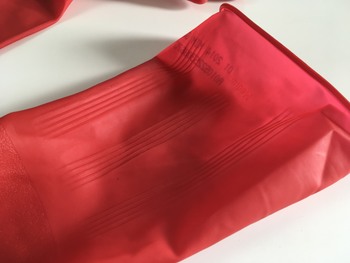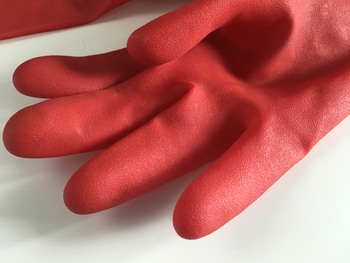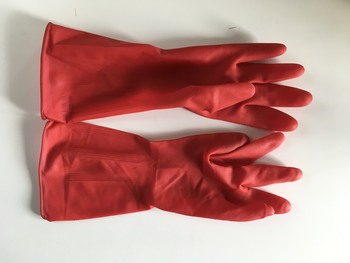 Hi All