I made another trip through the US over the summer, and naturally, I went glove hunting again.
One thing was different this time: I was travelling with my girlfriend, and she was fully aware of - and absolutely fine with - my little side quest.
The first supermarket we went to, she actually pointed out the glove section to me!
Here's the result (we did make a deal that I would limit myself to a maximum of 6 pairs, so as not to go overboard - it wasn't the primary goal of our vacation, after all.
):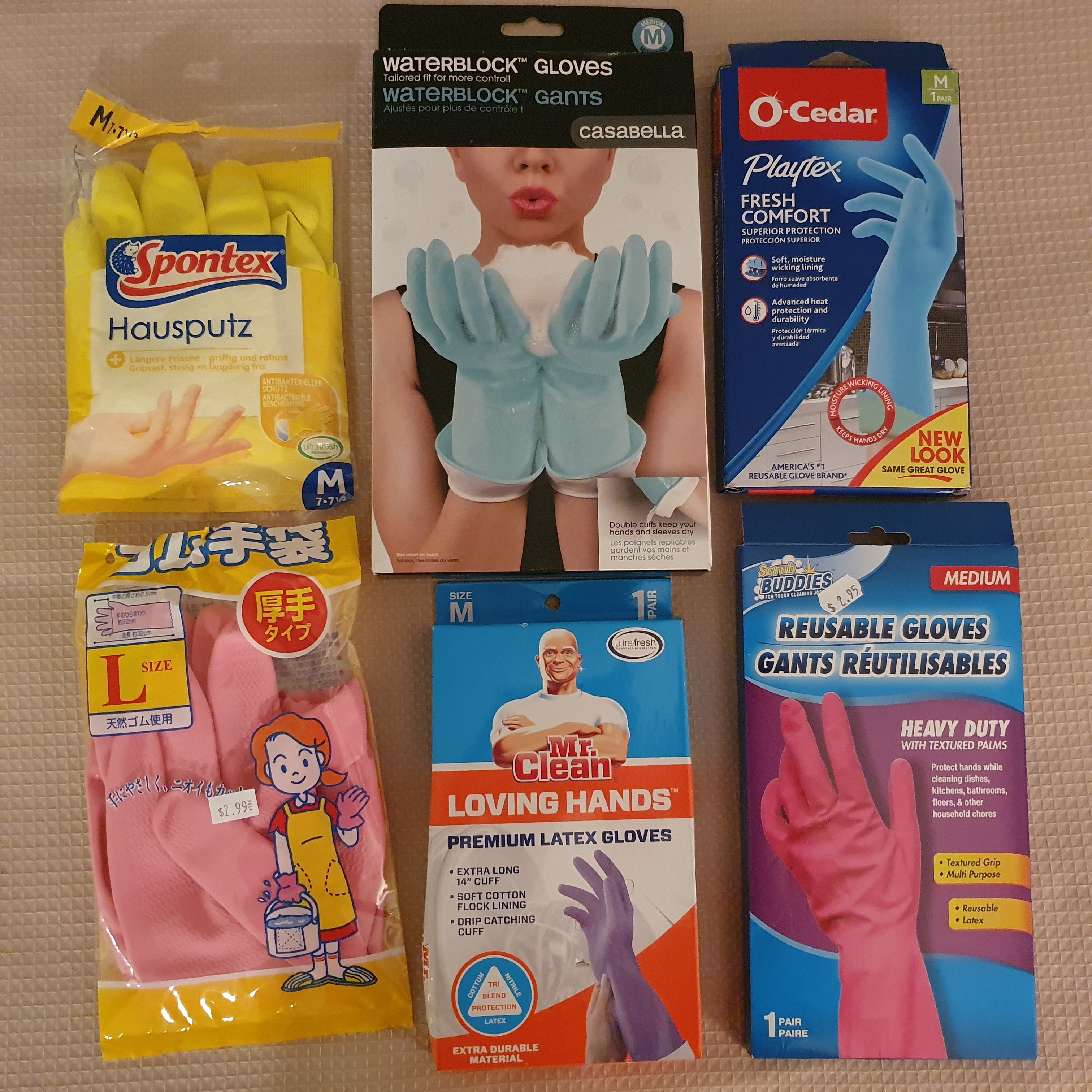 Our trip took us to Washington, New York, and New England (after a short detour through Germany, hence the Spontex gloves). I was really hoping to get some nice Korean gloves in New York - perhaps even a pair of
Komax
gloves in a smaller size, to better fit my GF's hands. But alas, both of the Korean stores I managed to visit only had the pink pair at bottom left, and they aren't anything special. Quite short, and no different from European mid-brand pink gloves. Actually, one of the stores also had a white pair with pink fingertips, but that's a design I don't like very much, so I didn't get those.
As you can see, I did find some new blue Casabella gloves (also in New York), which I'm excited to try out (haven't had a chance yet), and the relatively new blue Playtex Fresh Comfort gloves, which I can now confirm are indeed the same as Vileda's Fresh Comforts, as I already suspected when
I first posted about them
. I'd already forgotten I ever made that post and read about them, so I was kind of hoping for something I hadn't experienced before, but they're good gloves either way.
Another pair I was hoping were new, but weren't, are the purple Mr. Clean ones. I'm a bit confused about these actually. They look and feel like a rebrand of the purple Clean Ones I already have (which in turn were already
a rebrand of Meijer gloves
, but they're called Loving Hands, like the ones in
this post
, which I also have, but which I recall feeling very different. Further investigation needed, I guess.
The pink ones in the bottom right corner I found in a small (and
very
touristic) coastal town in the south of Maine, in a Ben & Jerry's Ice cream shop that was also a pharmacy.
They're a brand I'd never heard of, but they're nothing special, unfortunately. They also have a rolled cuff, which I don't like.
Finally, I also encountered some gloves I'm happy I didn't buy (especially considering my 6 pair limit
). These ones, which I saw in a Hannaford supermarket in Maine: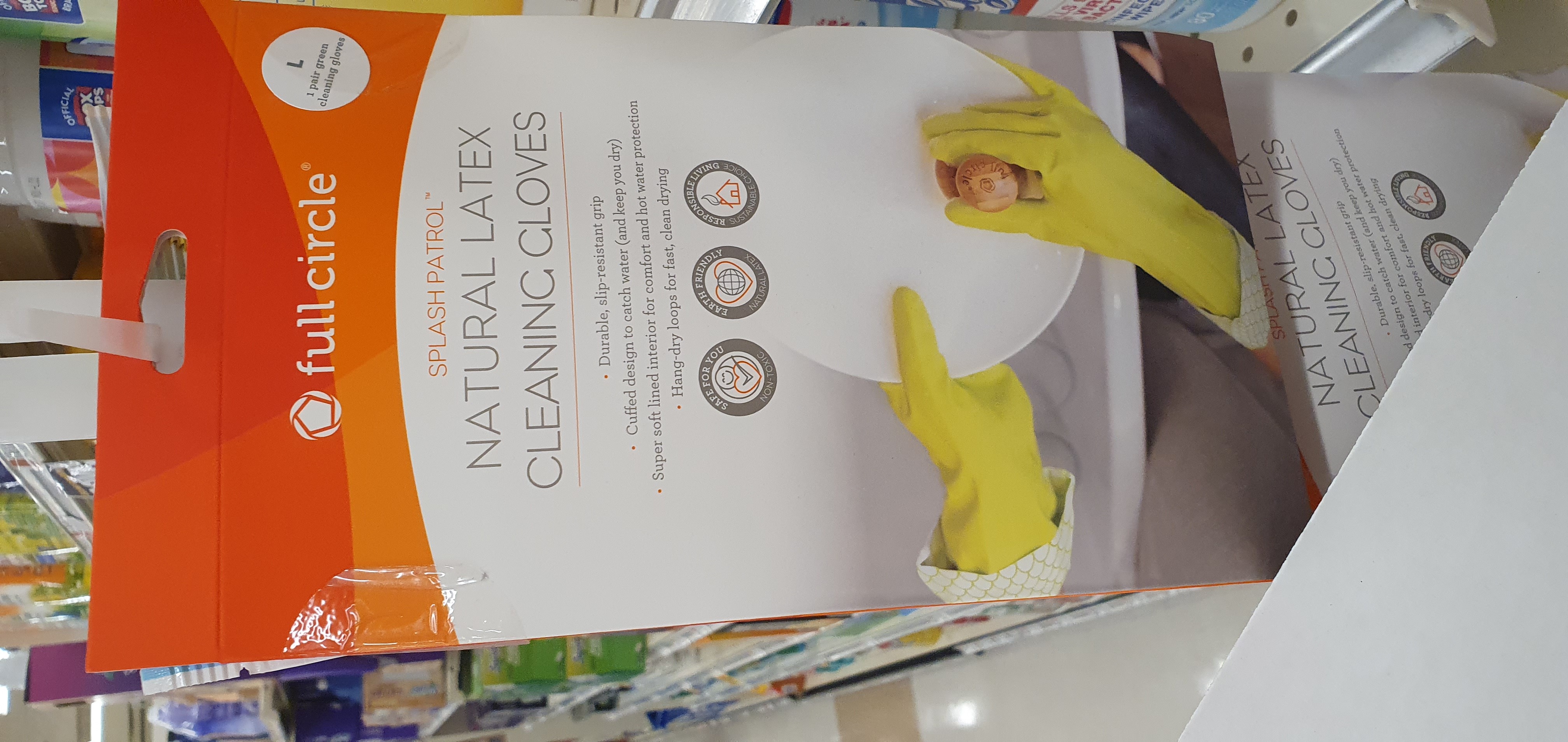 At first they looked interesting, I thought they had just rolled up the cuffs for the picture, which would make them pretty long if rolled down. They were quite expensive, though, so I decided to Google them first. Turns out the cuffs are just made like that!
You can't roll them down! They also look quite baggy by default - made all the worse by how short they are because of the cuff design, and they look super cheap and ugly in promo pictures:
https://finegrocerys.com/products/full- ... arge-green
Has anybody had the misfortune of buying these? Are they as bad as they seem?
All-in-all, not the best glove hunt I've ever had, but I got a couple of nice pairs, and it was awesome to have my girlfriend next to me while checking out rubber gloves (also great excuse for not feeling weird when paying for them at the counter
).