Hello and greetings, or "Grüß Gott" as we say in Germany. After a long while of just lurking, I want to start a project that I often started and discarded again. I am a collector and massive enthusiast of vintage leather gloves. And each pair that I own offers something that I like, ranging from normal everday's life situations up to pure pre-cum ejaculating and sweat-inducing
"leather lust"
moments. If you are a fan of soft lamb leather and supple kidskin gloves, you are in the right spot.
The motivation here is to get it off of my chest and inspire some of you (vintage) leather glove fans out there, and this will of course be a bit "dirty" once in a while. I try to be as gentleman as I can be, but after several minutes of grabbing into that tender leather of 60-year old vintage gloves or sniffing in the scent of two generations of women's sweat and perfume that are taken over by the pure silk lining - then you will also see a bit of my pre-cum and sweat.
The point is that I keep uploading a new pair of gloves once in a while by adding it as a new post. I hope this works out right and I hope I get the one or other person's penis stiff as well when I glide into finest gloves, pleasing my skin with silk and enclade my hands, wrists and arms with soft and tender kidskin leather that is so tender and soft it will roll up into massive and deep wrinkles in order to follow my movements and needs....
I am most probably very different to the average user or reader here as
soft leather is a part of my life.
It's a way of life, a way to express my style. I mean by that: I am an absolute leather enthusiast and leather
gloves
are the gems amongst the leather items. For example, I sit on a Chesterfield wingchair made of 100% leather - even at the sides and back, where many manufacturer often use fake shit. But still, I highly value gloves, despite being so small items compared to sofas and chairs. Leather gloves are often a conenctration of the finest materials - softest leather and most comfortable lining - on such an important piece of clothing (see next paragraph). Thus I have several reasons why leather gloves are so important for me, and also one trigger which I fondly remember (and also causes my penis to turn stiff when I just think back to that moment...). Oh yes, just to make it clear in the beginning: I am a male and I also dress like that.
But I wear lady's vintage gloves - the older, the better!
LEATHER GLOVES AS A WAY OF LIFE
Yes. Finest leather gloves - to me - bear so many layers of input and information which the "regular person" do not catch. There is a reason why there exist(ed) an entire glove etiquette with basic instructions ("Do not shake hands when...") up to the secret codes ("If a lady does X with her left glove, the man might (not) follow her" etc.).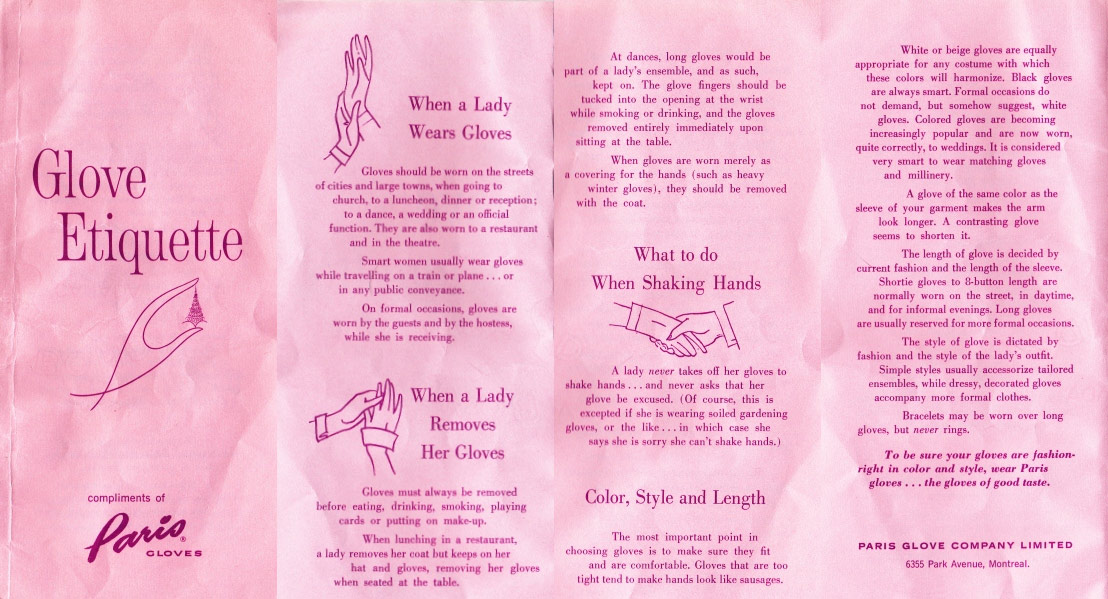 Retrowaste.com
Just to avoid repeating myself over and over, but I am going into the "Dark Casual" direction (people might label it as "Gothic", but it's actually much tamer and more suitable for everday's life) and it was a no-brainer that leather gloves are important. But I never actually asked "why". So I put again some effort to explore beyond the banality of our handwear.
In medieval times, a glove could be as important as a letter when worn by a powerful person before - basically as a substitute of his or her very own hand. On portraits, it is important if a lady wears one glove on or off, if it's on the table or in her hand. Gloves are very powerful and temperature protection is only one and probably the most recognizable reason. But no, there are many different vibes and actual circumstances about gloves. It's fascinating, and there exist even entire books and studies which are absolutely fascinating and basically made my love to wear gloves even stronger. Some of them are a good read on my tablet while having a cold drink:
A few of my interesting glove studies. It's super fascinating how profound the glove history is! (And on a side note, even the "importance" of the wearers smell that are taken by leather gloves has been discussed in two of the works - a side fetish of mine!)
And even in my appartment, there are leather-gloved gentlewomen hanging above my 100% leather Chesterfield sofa:
Several works by famous photographers like Horst P. Horst or Erwin Blumenfeld cover my walls. I purchased those high-quality prints directly from the Condenast store, the publisher behind the VOGUE magazine! The others are vintage ads simply printed out in a copyshop which adds a bit to the shabby look of these often 60-year old photographies.
So I hope you understand what I mean now.
Blunt fetish stuff turns me off
. Also, anything you can buy today (or the last 20 years) is below my standards. Once you looked at, wore or touched finest vintage leather gloves yourself, you will understand.
Close-up of one of my finest leather gloves from the 1970s - they are made of leather so tender that it feels like I am grabbing into jelly!
And despite I get some drops of my pre-cum or my sweat on the surface of my precious vintage lady's gloves once in a while, my valuable collection is usually clean. I do sometimes get "intimate" with my gloves, but in 99% of the time, I genuinely enjoy everything else about them.